Learning About Science at EPCOT
If you are planning a trip which may require your kids to miss school or have kids who are home-schooled, it might be worth considering finding a destination that is fun, relaxing, and also can help kids learn something. The Walt Disney World near Orlando, Florida is one of the most popular spots to take kids on vacation. Is there anything in at Disney World to help kids learn? Everyone who has been to Disney knows that EPCOT is generally considered a place that inspires people who want to learn new things, but is EPCOT at Walt Disney World a good place to take kids to teach them about science?
There is no doubt that EPCOT is one of the world's most popular theme parks. According to the Themed Entertainment Association, EPCOT is the 3rd most visited theme park in the world with just under 11 million visitors a year. Although Walt Disney's true vision of the Experimental Prototype City of Tomorrow (EPCOT) was never built, his spirit of innovation and technology was carried forward by the many designers and imagineers who created the EPCOT theme park. Many consider the park to have the best examples of a mixture of education and entertainment, called "edutainment", found anywhere.
Innoventions
EPCOT has two distinct areas including World Showcase and Future World. The Future World area of the park is where, as Bill Nye the Science Guy says, "Science rules!". The best of the Disney science areas is at Innoventions East and Innoventions West. The Innoventions areas are generally not over-crowded since many visitors pass them by looking for major rides like Soarin' or Test Track. All of the exhibits at the Innoventions Pavilions are sponsored by corporations. It is my understanding that the actual workers helping guests at Innoventions generally work for the sponsoring corporations, not Disney.
There are some extremely impressive exhibits at Innoventions including technologies that cannot be found on display anywhere else in the world. Raytheon sponsors, The Sum of All Thrills. This attraction allows guests to create one of several types of rides including bob sleds, roller coasters or jet airplane rides. Guest use a touch screen drafting board to make their ride using actual physics limitations such as gravity and g-force. After the ride is designed, guests are strapped into a simulator to experience their masterpiece. The simulator along with a display helmet that is worn provides a very convincing ride experience. Visitors can even experience inverted or upside down movements, if designed in the ride. Guest must be at least 48" tall to experience this attraction and over 54" to make their ride go upside down.
IBM sponsors the SmarterPlanet exhibit that shows off their computer power in fun ways. There are three sections of this exhibit including SmarterPlanet kiosks, SmarterPlanet Data center and Runtime. All three sections are very cool, but kids will really enjoy the Runtime exhibit. Guests are asked to stand in front of a backdrop which acts as a green screen to perform a few motions. The system then captures the images and transforms them into a character in a game. Guests can then step over to the interactive machines to play a video game starring themselves as the digital character. Innoventions offers other exhibits including interactive displays that focus on recycling, fire safety, weather, saving money, and the environment. There is also an interactive area to play with and test household objects in sort of a Disney-created test environment. In summary, the Innovations pavilion is like a unique kids museum within the EPCOT park.
The Seas with Nemo & Friends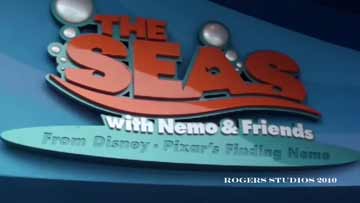 The Seas with Nemo and Friends, formerly known as "The Living Seas", is a good place to help kids learn about marine biology. When approaching the pavilion, if the Nemo ride line is long, it can be bypassed to access the pavilion directly to the left of the ride line. Some of the best underwater viewing is in the upstairs area. There are displays throughout the pavilion, along with periodic live demonstrations and feedings. Turtle Talk with Crush is also located in the Seas pavilion. This is a very fun show and kids also have the chance to learn something from Crush. Stingrays are still present near Turtle Talk, but their tank is no longer set up as a touching area for the stingrays. h3>Mission Space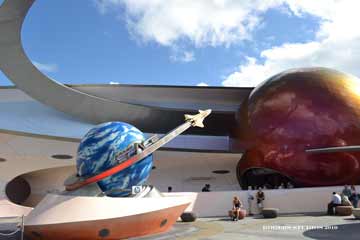 Mission Space not only has a great scientific theme, but offers some great hands-on games and activities in the post-ride area.
Guests are routed through the post-ride activity area before entering the gift shop, so it cannot be missed. There is even a space-themed climbing area that younger kids can enjoy while their older siblings have fun with the activities.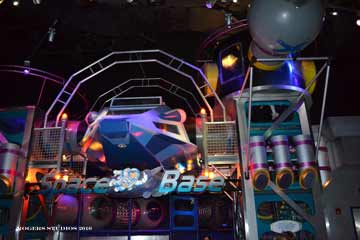 Spaceship Earth
Spaceship Earth also has a very nice, recently updated, post-ride area. The ride itself helps kids understand advancements in technology over history. The post-ride area's theme is the future. There are games and activities and even a chance to email your fictional ideal future photo to someone using the kiosks after the ride.
Test Track
General Motor's Test Track is the next best thing to visiting an actual automobile factory. The post-ride area has a section of robotics and conveyors that would be seen in a modern car factory. The ride itself demonstrates vehicle engineering and testing. It gives kids a look at some of the things that make cars safe to drive in a very fun way.
Imagination with Figment
The Imagination with Figment ride also has a post-ride area to let kids have fun and explore. This area is smaller now than in previous years and is slowly being taken over by gift displays, but it is a fun area for younger kids.
Universe of Energy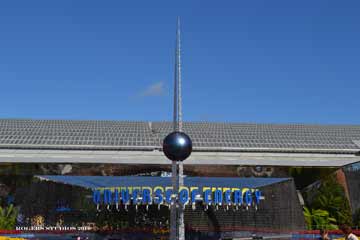 The Universe of Energy is a very good ride for kids. It features Ellen and Bill Nye. Kids will enjoy this ride, but the full show and ride are a little long. The prehistoric dinosaur section of ride is great. If you have kids that like dinosaurs then do not skip this ride. Unfortunately, there is no post-ride interactive area in this pavilion.
The Land Pavilion
Inside the Land pavilion is my personal favorite, Living with the Land. This boat ride takes you through Disney's experimental growing area within a greenhouse. Before entering the greenhouse is a show section complete with scenery and animatronic figures. The growing area is spectacular. Some of the plants Disney has convinced to grow into trees are amazing. My kids love this ride and always want to see it again each time we visit.
More than 25 years after the EPCOT originally opened, a shift has been made to provide more entertainment attractions including adding characters into existing attractions. The EPCOT park is still very good park, all-around and offers more science learning than any other amusement park. There are a few exhibits, however, that are no longer open at EPCOT. The Wonders of Life pavilion now appears like it is permanently closed. This pavilion, once had many hands-on activities, especially for younger kids. Horizons, which has become many Disney purist's greatest loss at EPCOT, is no longer open. It was probably a victim of the topic of which it tried to show to guests, "the future". Even with these losses, kids will get some good hands-on experiences at EPCOT, but don't always hurry to the next big ride. Take some time and let them enjoy exploring the displays and exhibits.
Science of Disney Imagineering
One of the best things about Disney as a company is not only their support for science in their theme parks but their support for science at home or in the classroom. Disney has created the Science of Disney Imagineering video series to help parents at home or teachers in the classroom teach kids about science. The videos show the science behind many of the rides and attractions at Disney theme parks including EPCOT. There are videos available for many different areas of science. The videos use well made graphics and attraction video content to demonstrate scientific concepts such as gravity (The Tower of Terror), and magnetism (Astro Orbiter and Rock n' Roller Coaster).
EPCOT DETAILS
Location:

Orlando, Florida at Walt Disney World

Science Learned:

Energy, physics, biology, engineering

Hours:

9:00AM-10:00PM
(typical, but varies)

Cost:

$100+




MORE SCIENCE PLACES TO VISIT