Many years before the periodic table of elements began being organized by scientists, discoveries of new elements took place. In 1766 Henry Cavendish discovered that the air in the atmosphere actually contained specific elements. It was the discovery one of the most abundant elements in the periodic table, hydrogen. Even before this first recorded discovery of an gas element was documented, other undocumented element were being used by humans. During the Bronze Age copper, arsenic, and gold gained widespread use. These elements were certainly isolated and sought out by people during this time period.
The first documented organization of elements was by German scientist Johan Dobereiner in 1829. He organized elements into three different groups called triads. Dobereiner's element model was soon outdated when several new elements were discovered that did not fit his triad.
An expansion of the organization of elements was made in 1864 by a chemist from England named John Newlands. He organized the elements in 8 groups and called it the Law of Octaves. Again, Newlands' element model did not work because new elements were discovered that did not fit.
Dmitrii Mendeleev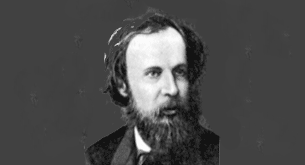 Dmitrii Mendeleev
Photo credit: nasa.gov
The first true periodic table of elements was discovered by Dmitrii Mendeleev, a Russian scientist in 1869. Mendeleev saw the periodic nature of similar repeating traits of different elements. He organized the elements in a periodic table. Mendeleev also knew that it was possible that other elements were in existance because there were some spots in the periodic table in 1869 that were not discovered elements yet. He filled in some of these open spots, even predicting some of the attributes of the undiscovered elements. Mendeleev's periodic table still stands up well today even though it was later expanded.

Mendeleev's 1872 Periodic Table of Elements
Photo credit: nasa.gov