Cincinnati Zoo & Botanical Garden
The Cincinnati Zoo is one of the top attractions for families visiting southeast Ohio. The zoo consistently ranks as one of the top 10 kids zoos in the United States. With over 500 different animal species and over 3,000 plant species, the Cincinnati Zoo ranks as having one of the largest zoo collections in the United States.
The Cincinnati Zoo is well-themed throughout and boasts many different animal exhibits that are recently updated. The Lords of the Arctic, Manatee Springs,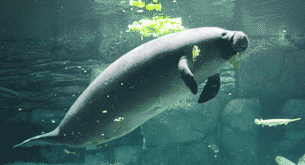 Manatee Springs at the Cincinnati Zoo
Wings of the World, Tropical African & Asian Animals, and Cat Canyon are all highly rated areas where guests can get close to animals and more about them. Two unique animal displays at the zoo are Giraffe Ridge, which offers guests a chance to feed a giraffe (small fee required) and Sigmund & Roy's White Lion exhibit, featuring one of the largest group of white lions on display.
The zoo covers 65 acres. Even though it is situated in an urban Cincinnati setting, the zoo has the feel of being in different far away places because of the botanical gardens which provide a wonderful living backdrop throughout the park. Guests can learn more about the different plant and tree species by reading the small posted information signs. The walking paths through the zoo are similar to area terrain, so be prepared to walk up and down rolling hills during a visit.
When you are visiting be sure to look at some of the zoo buildings. The Cincinnati Zoo is the second oldest zoo in America and is a registered national landmark. The Reptile House holds the distinction of being the oldest zoo building in the country, being first constructed for the zoo in 1875.
Where to Find Science Information at the zoo:
Science is found everywhere at the zoo. Three of the main sciences, including zoology, biology and botany are all strongly covered at the Cincinnati Zoo and Botanical Garden.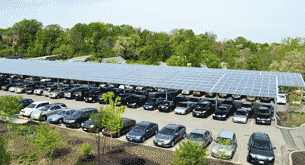 Solar Panels in the Zoo parking lot
In addition, the solar panel canopy that covers the main Vine Street parking lot, provides up to 20 percent of the zoo's energy needs. The solar panels are also a great teaching tool, providing good scientific information to kids. Look around the zoo during a visit. There are many information signs that provide detailed information about the plants and animals on display. Younger and older children will enjoy learning about life sciences at the Cincinnati Zoo. Consider taking the time to read some of the information posted at the zoo to help them get a deeper understanding of the plants or animals they are observing.
CINCINNATI ZOO DETAILS
Location:

Cincinnati, OH

Address: 3400 Vine Street, Cincinnati, Ohio 45220

Science Learned:

biology, energy, botany and ecology



Hours:

(check schedule before visiting - subject to change)

M-Sun.: 9:00 am – 5:00 PM (Fall, Winter & Spring)
M-Sun.: 9:00 am - 6:00 PM (Summer)
Closed on Christmas



Cost:

Subject to change

Adults/teens (13 and older): $15.00
Kids (2-12): $10.00
Children under 2: Free
Additional Zoo Discounts May be available
Memberships available for a reasonable cost





MORE SCIENCE PLACES TO VISIT