One of the best aquariums in the Midwest is located in Newport, Kentucky, just across the Ohio River from downtown Cincinnati. The aquarium is part of the new riverfront entertainment development in Newport. The development also includes other entertainment venues like bowling and a large movie theater. There are also several really good restaurants here.
The Newport aquarium has over a dozen different areas with a separate theme and two underwater viewing tunnels. There is plenty to explore throughout the aquarium. Here some of the highlights.
Frog Bog
Frog Bog is an Amphibian theme area about halfway through the aquarium. This section is designed for little kids to climb and play for a while until they're ready to move on. My favorite is the Frogger game where players really have to hop like a frog.
Aviary Rainforest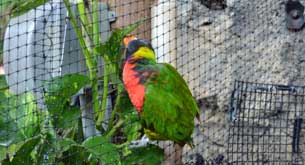 Newport Aquarium's Aviary
This is an open space where guess can interact with birds and see otters. Birds fly freely through the open area, but can be enticed to land on guest's shoulders or branches nearby. A "sweet nectar" is available for a small fee to entice the birds.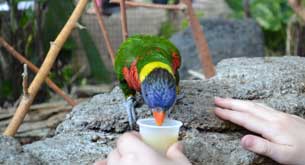 Birds will get very close to guests in the Aviary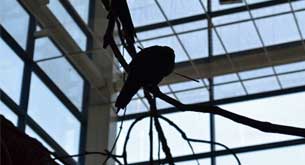 Find all of the many birds in the Newport Aquarium Aviary
Gator Alley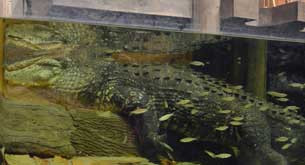 Big Mike is a huge Alligator at the Newport Aquarium in Northern Kentucky
When you turn the corner and your gator Alley it is though you're transported to an Alabama swamp. Big Mike, the huge gator, is the marquee creature here, but there also other alligators and crocodiles to observe. Gator Alley offers kids a safe way to view some very dangerous animals.
Shark Tank
See sharks up close in the Shark Tank underwater tunnel
A trip through the shark tank underwater viewing tunnel is one of the best reasons to visit to Newport aquarium. Guests can observe sharks rays and other sea creatures up close through the clear viewing tunnel. It is like snorkeling without getting wet.
Penguin Palooza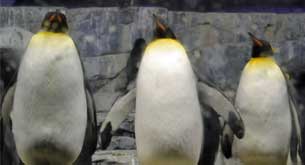 Penguin Palooza at the Newport Aquarium
The penguin display is a nice place to see the penguins who are extremely popular with kids. Observe how the penguins interact with each other on land and while swimming. The penguin display here is similar in size to the penguin area at the Cincinnati Zoo.
Science Teaching Opportunities at the Newport Aquarium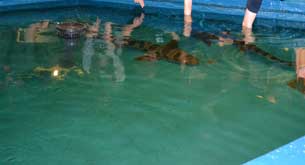 Kids love the shark touch tank at the Newport Aquarium
Teaching kids about marine biology is the largest reason to visit the Newport Aquarium. It is difficult to see real sea animals and fish in action. The Newport Aquarium gives kids the change to see and touch the creatures here. With the clear tunnels, kids can watch the sharks and rays swim over a long distance to see how they might act in an ocean.