Kids at any age are capable of starting to understand science concepts. In school, however, science is not typically taught until later in elementary school, after mathematical skills are established. The traditional way of teaching physics and other difficult science subjects is to start with the equations. Kids will likely not be able to perform algebra in the second grade, but they are very capable of understanding basic laws of physics, chemical elements, electricity and more at a much earlier age. Kids are very capable visual learners. This fact is very evident if you take the time to watch them play a video game. Some of the skill kids must learn to master a video game are more complex than basic scientific understand. For parents and teachers who want their kids to excel in science, start early and use opportunities for visual learning as much as possible. Here are some tips to get you started encouraging your children to learn science.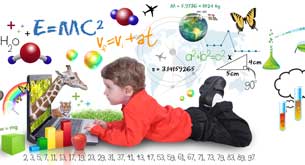 Help Kids Excel in Science
Tips to Help Kids Perform Well in Science
Introduce science toys to children and give them opportunities to learn about science from a young age. Science opportunities may include taking them to a science museum, children's museum or a zoo. Kids are also exposed to science when provided with safe materials like sand, soil and water to play with in a supervised setting. Consider providing a sand and water table where they can touch and interact with different materials.


Provide individual teaching, starting at a young age. Read kids science books, demonstrate science experiments and let them view age-appropriate scientific videos and documentaries on science-related subjects.


Help kids find peers who also enjoy science. One way to help them connect with kids who have similar interests is to look for science clubs or other after-school programs that are offered at their school. Also, look outside their school for science-related clubs. Look for area LEGO clubs, FIRST (robotics), STEM programs or science Olympiad (www.soinc.org). The Girl Scouts of America also have the "Girls Go Tech" initiative (www.girlsgotech.org) to help encourage girls interest in math, science and technology.


Seek science-related summer camps. Summer is a time when kids can get ahead in a subject because they have more free time. There are more options available today with programs that not only educational, but also fun and encourage social interaction. New York and New Jersey residents can look at the i2 science camps. Most science museums and zoos have science or zoology camps available throughout the summer. Digital Media Academy and IDTech offers summer camps related to robotics and programming at most major universities in the United States through the summer months.


Use some time during family vacations to point out science concepts. Most cities have science-related places to visit with kids. Look for one of these places to spend an afternoon or include a discussion about science each day of your vacation with any itinerary. For example, if your family plans to spend a week at the beach. Make a point of noting the tide each day and explain why the water elevation changes during the day.