Is Disney's Animal Kingdom at theme park or a zoo? Actually it is both! Animal Kingdom has great themed areas, rides, shows, restaurants and characters guests expect at a Disney park. The park also has wonderful learning opportunities available to teach teach kids about plants, animals and other areas of biology and ecology. Disney's imagineers also worked hard to showcase other cultures found outside of the United States where some of the animals are found.
Animal Kingdom Entrance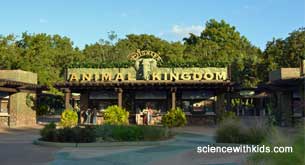 Animal Kingdom Gate
The gate area of Animal Kingdom is similar to other Walt Disney World parks. There are the familiar bus drop-off locations for each resort, expansive parking lot, ticket booths, and the entrance gate. Once inside the gate, the similarities to other parks end. There is a Rain Forest Cafe restaurant to the left, but otherwise there are no buildings, streets or transportation. Instead, there are tranquil paths, lush vegetations and a few animals in the natural entrance area. This area of Animal Kingdom is call the Oasis, which is a great name because it offers an unusual calm entrance to a relatively busy theme park. Many guests rush past the entrance areas on their way to the most distant attractions such as Expedition Everest, Dinosaur and Kilimanjaro Safaris. The entrance area, however, offers visitors a taste of more to come the rest of the day.
After crossing the bridge to Discovery Island, the path has a slight downhill slope. With the iconic Tree of Life directly ahead, guests can choose to go right towards DinoLand U.S.A. and Asia (Expedition Everest) or left towards Camp Minnie-Mickey and Africa (Kilimanjaro Safaris and Rafiki's Planet Watch). Both directions offer some great entertainment choices. Expedition Everest typically has the largest crowd early in the morning of the major attractions. Science and culture are everywhere at Disney's Animal Kingdom. Here are some of the highlights at Animal Kingdom to immerse yourself in the science that Disney has to offer at the park.
Kilimanjaro Safaris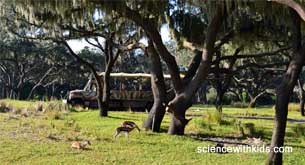 See wildlife up close at Animal Kingdom's Kilimanjaro Safaris
One of the signature attractions of Disney's Animal Kingdom is Kilimanjaro Safaris. Kilimanjaro Safaris gives visitors the opportunity to view exotic wildlife in an environment that is very similar to their native habitat. Kilimanjaro Safaris is a major attraction in Disney's Animal Kingdom which can get long lines during peak times, but it is offers extraordinary experiences with close-up animal encounters not typically found in most zoos. Kilimanjaro Safaris offers a great way for kids to experience and learn about biology in an exciting way.
Pangani Forest Exploration Trail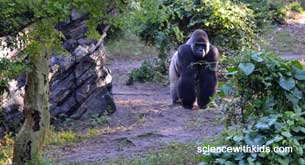 See lowland gorillas on the Pangani Forest Exploration Trail
Disney's Animal Kingdom offers two great areas where guests can explore at their own pace. The Pangani Forest Exploration Trail and the Maharajah Jungle Trek both have these features, but offer completely different experiences with different types of animals. The Pangani Forest Exploration Trail is a 5 acre areas of the park featuring African wildlife including the lowland gorillas. There are two groups of gorillas including a full family and a group of male gorillas. There are also monkeys, rare birds and hippos. The Disney guide indicates that it takes an average of 20-25 minutes to explore the Pangani Forest Trail. Much more time could be spent if you want to ask questions from the Disney guides or take some amazing photographs of the wildlife and plant life.
Maharajah Jungle Trek
Maharajah Jungle Trek Area
The Maharajah Jungle Trek, which should not be confused with the premium Wild Africa Trek experience, is the second jungle walk in the Animal Kingdom. The Maharajah Jungle Trek centers around an Indian Jungle. The walk re-creates scenes and wildlife typically experienced in rainforest areas in India. Guests may also get to see the Bengal tiger, bats, the flying fox, phyton, the amazing bar-headed goose and deer found in India. The entrance for Maharajah Jungle Trek is near Kali River Rapids, just past the Yak and Yeti restaurant.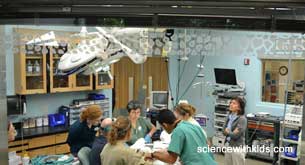 Real animal operation live at Disney's conservation station
Wildlife Express Train/Conservation Station
Conservation Station in Rakiki's Planet Watch – To reach conservation station, guests must ride the Wildlife Express Train. The entrance for the train is near the exit of Kilimanjaro Safaris in Africa. During the train ride, you can get an idea of how Disney manages all the animals. At Conversation Station there are some good hands-on activities for kids. Inside the building there are displays and exhibits. Typically Disney cast members have a live animal for kids to touch. One of the most unique experiences at Animal Kingdom is if you happen to be at Conservation Station during a live animal care operation. Veterinarians at Disney help animals by treating them at Conservation Station. If your timing is good, you may be luckey enough to see how these skilled scientists care for an animal. In addition, there are listening stations where guests can enter a booth and listen to the sounds of nature. Also, in this area there are sometimes characters that are hard to find in the other Disney Parks. Last time we visited, Jiminy Cricket was there taking photos with guests and signing autographs. Outside the Conservation Station is a petting zoo filled with different animals kids can touch and observe.
Animal Kingdom Rides and Attractions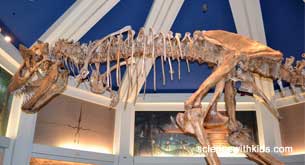 The ride queue at Dinosaur looks like a natural history museum
There are learning opportunities at almost every ride and attraction at Disney's Animal Kingdom. For example, the entrance and line queue for Dinosaur is very similar to a natural history museum. At Expedition Everest, Disney sent the people who designed the ride to Nepal to study what a typical village may look like. Guests can see the attention to detail in the line queue area for the recreation of a village on the edge of the mountains in Nepal.
Kali River Rapids has a fictional backstory for the attraction that highlights a real-life problem. The story surrounds the Chakranadi River in India. During the ride, guests can see logging operations of the rainforest near the river. The Kali River Rapids experience shows an alternative way to earn money from the river.
Science at Walt Disney World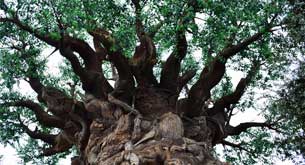 Animal Kingdom is a combination of learning and fun
The next time your family needs a vacation location, but are looking to enhance the kids learning experiences, consider Disney World in Orlando. Not only is there world-class entertainment and top notch customer service, Disney World also has educational opportunities. Animals Kingdom, Animal Kingdom Lodge and EPCOT all offer places for kids to learn about different cultures around the world and learn about science.